2021 is here, and the wall calendar in my home office still reads 2020. Written in dry-erase marker are events and intents that came to an abrupt halt on March 20. No day retreats, art journaling in-person events, or word of the year in-studio workshops happened. I did not travel to training or business events and instead logged many hours with Zoom.
Steady, my word-of-the-year for 2020, became a daily mantra. Like a child learning to ride a bike, I kept my eyes in front of me and hands on the handlebars. I wobbled a bit but I didn't fall.
I sat in my studio New Year's Eve with a few family members preparing to ring in the new year. Much different from years past was the subdued nature of the event. No raucous activities downtown, performances to attend, crowds to get lost in. Just me, two sisters, a niece, and three small nephews cutting and gluing and pondering our intentions for 2021.
I did not reveal my word at the stroke of midnight as in years past. I share it with you now as a reminder that it is never too late to sit down and set that intention.
I knew in October that embody was my word. By December I knew it was a phrase.
Embody Joy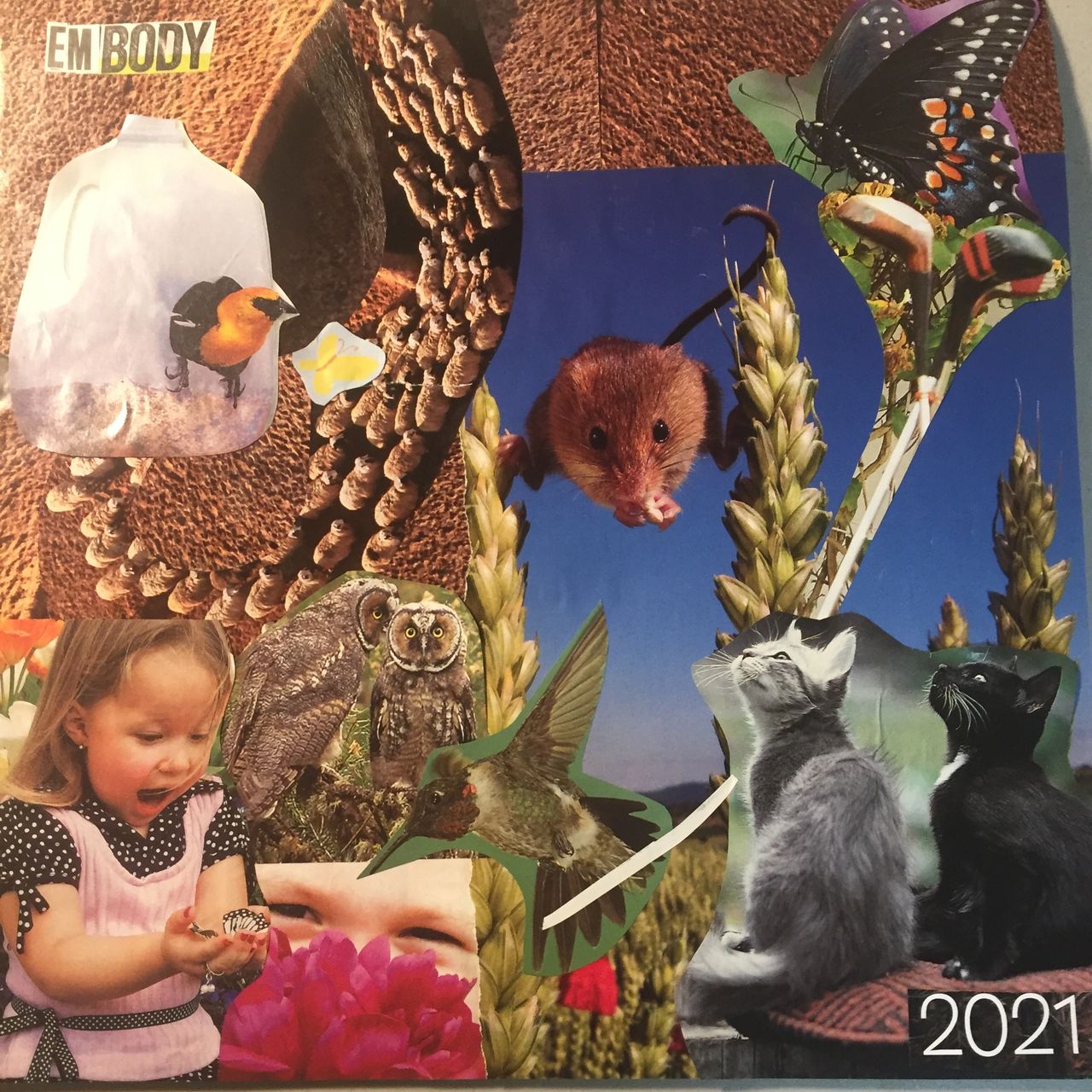 This is the art journal page created New Year's Eve. It hangs in a frame in my studio to remind me of my intention for 2021. Can you find the word Joy hidden in it?
Maybe the shock of all that happened last year makes setting an intention for this one feel daunting. I look at my planner, already a week behind, and wonder the point of everything. Not an encouraging mindset for someone inviting others to more of themselves!
May I encourage you to try? Take that next gentle step forward. Just as I opened my laptop today and spent 30 minutes writing to you, however imperfectly, spend 30 minutes considering where you might want to go in your story this year. Reach out to be seen and heard with kindness and intention.
Let's step gently into 2021 ready to embrace all of the gifts and the griefs fully, as only humans can. Let's do it together.
Happy New Year!